| | | |
| --- | --- | --- |
| | | Passion Flower flowers on a vine in the garden |
aka Maypop and Passion Vine

Passiflora incarnata
Family: PASSIFLORACEAE
In Australia we have found that Passion Flower grows profusely; we planted it to climb a trellis on our front veranda, it did so enthusiastically that so we had to take it all down because it was closing off the veranda.

Passionflower[1] is a powerful herb which helps nervous conditions, depression, anxiety and stress related ailments. Many people are so busy and feel overwhelmed in this 21st century and Passionflower has the ability to keep you calm and emotionally balanced whilst in a world of chaos.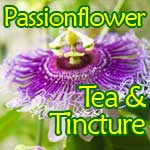 Passion Flower Tea and Tincture Supplement details:
(for the search engines )
Also known as:
Passiflora incarnate also called Maypop and Passion Vine
Description:
Natural herbal preparation for depression, anxiety, stress, insomnia, drug withdrawal, asthma, parkinsons disease, whooping cough, palpitations, irritable bowel syndrome, candida, high blood pressure, hyperactivity,epilepsy, menopause, hot flushes
Reference:
http://en.wikipedia.org/wiki/Passionflower
Modality/s:
Naturopathy, Herbalism
Discipline/s:
Naturopath, Herbalist, Nutritionist, Dietitian
Official Body:
European Herbal & Traditional Medicine Practitioners Association, American Naturopathic Medical Association
Adverse outcome:
calming
Contraindication:
Passion Flower is not recommended for use during pregnancy nor in conjuction with antidepressant drugs. More than 3 cups per day are not to be taken without Professional advice. Taken in excess will cause drowsiness
Conditions treated:
stress, anxiety, nervous tension, depression, calming
Main ingredient/s:
Passionflower
What form it takes :
Tea and Tincture
Is "Passion Flower Tea and Tincture" a proprietary Name?
no
How it is taken:
Tea and Tincture
Manufacturer:
Middle Path Natural Health
Maximum Dosage:
3 cups of tea or 4.5ml of tincture per day
How it works:
Has a calming sedative effect
Supplement category:
Carmative, Sedative
Maximum recommended intake:
3 cups of tea or 4.5ml of tincture per day
Safety Consideration/s:
To be taken as directed as if taken in excess will cause drowsiness, not to be taken when pregnant or on anti-depression drugs
Target population:
Adults
Page:
http://www.middlepath.com.au/plant/Passionflower_Maypop_Passion-Vine_Passiflora-incarnata.php