Maidenhair tree
Ginkgo biloba
Family: GINKGOACEAE
aka: Buddha's fingernails, flying moth leaf, duck-foot
Gingko Biloba [1] is a unique species of tree with no close living relatives. Widely cultivated since early in human history, it is a versatile medicine food. Regarded as a living fossil, the venerable Gingko, as we know it today, has been around since the eocene period (55,000,000 years ago), and today is long-lived with some specimens over 2,500 years old.


Gingkos are Survivors
The ginkgo's tenacity may be seen in Hiroshima, Japan, where six trees growing between 1-2 km from the 1945 atom bomb explosion were among the few living things in the area to survive the blast. While almost all other plants (and animals) in the area were destroyed, the ginkgos, though charred, survived and were soon healthy again. The trees are alive to this day and are regarded as the "bearer of hope" [2]

Ginkgoes can grow to be large trees, up to 35 metres, they have an angular crown with long, somewhat erratic branches, usually deep rooted with excellent wind resistance.

Young trees are typically tall and slender with few branches. In autumn, the dying leaves turn a bright yellow, then fall, sometimes within a short space of time (1-15 days). Good disease resistance, insect-resistant wood and the ability to form aerial roots and sprouts all contribute to the Gingko's longevity.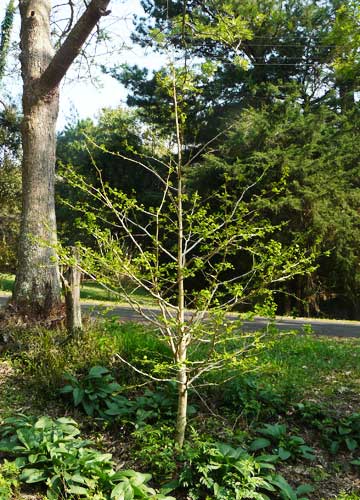 new foliage on the Gingko Biloba in Spring