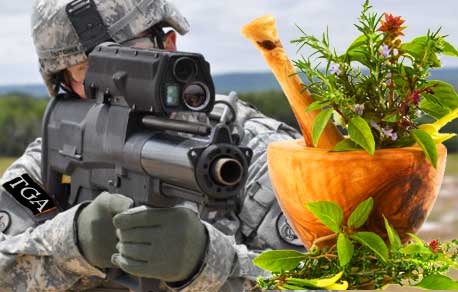 TGA continues assault on Naturopathy in Australia

It is clear that the assault on natural therapies continues unabated and many in the AMA and others in the medical profession want to see naturopaths and other natural therapy practitioners severely limited in their ability to help people and some even want to drive most natural therapies out of business. This will leave a massive gap in Australia's medical system leaving those who seek help in a variety of therapies without any help.

The local ABC ran an interview yesterday (July 11, 2013 [1]: To follow on the ABC story and a comment on deaths caused by prescription drugs, here are figures on the USA rates of illness and death caused by medical errors, wrong medicines, and wrong diagnoses - this is almost 20 years ago. The Figures are worse now.

In 1995, a report in JAMA (US Journal of Medicine) said that: "

Over a million patients are injured in U.S. hospitals each year, and approximately 280,000 die annually as a result of these injuries. Therefore, the Iatrogenic death rate dwarfs the annual automobile accident mortality rate of 45,000 and accounts for more deaths than all other accidents combined.

" See also our article Blind Faith in the Health Care System your biggest health threat?.

At a press conference in 1997 Dr. Leape (NPSF [2]) released a nationwide poll on patient iatrogenesis conducted by the National Patient Safety Foundation (NPSF), which is sponsored by the American Medical Association. The survey found that more than 100 million Americans have been impacted directly and indirectly by a medical mistake. 42% were directly affected and a total of 84% personally knew of someone who had experienced a medical mistake.(14) Dr. Leape is a founding member of the NPSF.

Dr. Leape at this press conference also updated his 1994 statistics saying that medical errors in inpatient hospital settings nationwide, as of 1997, could be as high as 3 million and could cost as much as $200 billion. Leape used a 14% fatality rate to determine a medical error death rate of 180,000 in 1994. (16) In 1997, using Leape's base number of 3 million errors, the annual deaths could be as much as 420,000 for inpatients alone. This does not include nursing home deaths, or people in the outpatient community dying of drug side effects or as the result of medical procedures.

Natural medicine's record is a tiny spot on the windscreen compared to this. You could count the deaths and errors in ten years on two hands worth of fingers in Aust and NZ. Which style of medicine DO YOU THINK needs more control on its standards?


Sign the petition here
Other voices and articles:
Blind Faith in the Health Care System your biggest health threat?
Link to: Blind Faith in the Health Care System your biggest health threat? a video portraying the Health Care System as the leading cause of avoidable death as documented in "Death by Medicine" By Gary Null, Ph.D., PhD; Carolyn Dean MD, ND; Martin Feldman, MD; Debora Rasio, MD; and Dorothy Smith, PhD

Sign the petition here
TGA Australia: Stop the Proposal to Delete Naturopathy
from Ecovoice | July 9, 2013 The Therapeutic Goods Administration (TGA) is seeking to stop Australian Naturopaths receiving advertising about therapeutic supplements, (or advising about or prescribing the products to their clients). (Consultation Regulation Impact Statement. Regulating the advertising of therapeutic goods to the general public Version 4.6, May 2013 - Proposal 6).

This will effectively delete the industry as such products form the basis of Naturopaths providing safe and successful treatment for their clients, as well as maintaining financial viability in the market place.

The premise for such action? Despite degree level science based tertiary Naturopathic education, the TGA quotes that they cannot be sure that Naturopaths are qualified to give such information or prescriptions.

The alternative? Hand over such prescribing to other health professionals registered under Australia's NRAS (National Registration and Accreditation Scheme).

This includes podiatrists, dental hygienists and a range of other professionals typically non-qualified to give such advice and prescriptions. This is an issue of threat to public safety, loss of freedom of choice in healthcare, and incredible arrogance and injustice to the Naturopathic Industry, despite the industry performing a vital role in maintaining people's health without costing the public health system a cent.

Note that Naturopaths typically receive rigorous education in Australia prior to qualification, and are subject to ongoing annual educational standards and regulatory measures via their professional organisations. The TGA has proposed this regulatory change with no fanfare, a very short time for the public to respond (by July 19th 2013), and across both a holiday period and end of financial year (against their own reform principles). Your support of this petition is necessary and urgent, as well as greatly appreciated.



Sign the petition here
Naturopaths under threat from changes to legislation (Source: The Sunshine Coast Daily, 11th Jul 2013 [3] )
Link to: Naturopaths under threat from changes to legislation

Sign the petition here
Naturopathy - have your say (Source: The ABC Cooloola Coast, 11th Jul 2013 [1] )
Link to: Naturopathy - have your say

Sign the petition here
Medical Error rates are still Too High (Source: The Age 08.03.11 [4] )
Thousands of people are likely to be dying every year as a result of preventable hospital errors, a health economist says. Doctors and academics yesterday called for more funding of hospital programs to examine adverse events (unintended injuries from medical care) after The Age revealed inadequacies in the voluntary reporting system for such incidents at the Royal Children's Hospital.

Professor of health economics at Monash University, Jeff Richardson, said that if the last major Australian study to estimate the number of deaths due to preventable adverse events was right, 350 patients were dying every two weeks because of the problem. Professor Richardson said it was astonishing that so little had been done since The Quality in Australian Health Care Study in 1995 estimated about 12,000 Australians were dying each year because of preventable events.

''

The issue of adverse events in the Australian health system should dominate all others. However, it would be closer to the truth to describe it as Australia's best kept secret

,'' he said.

Link to: Medical Error rates are still Too High
Sign the petition here
How does the TGA regard Traditional Natural Therapy?
Herbs have the longest history of medicinal use known to man -

The use of plants as medicines dates as far back as the origin of humankind

,

The first written record of herbs used as medicines was made over five thousands years ago by the Sumerians

[5].

The use of plants as medicines predates written human history. Ethnobotany (the study of traditional human uses of plants) is recognized as an effective way to discover future medicines. In 2001, researchers identified 122 compounds used in modern medicine which were derived from "ethnomedical" plant sources; 80% of these have had an ethnomedical use identical or related to the current use of the active elements of the plant[6]. Many of the pharmaceuticals currently available to physicians have a long history of use as herbal remedies, including aspirin, digitalis, quinine, and opium.[7]

Yet the TGA[8] will not recognise Australian Natural Health bodies such as

Once again the TGA exposes itself as deliberately ignoring natural medicine while favouring the unnatural pharmaceuticals with their host of debilitating side-effects and extraordinary profit margins - despite the fact that the majority of prescription drugs have been derived from plants.

The TGA is Australia's regulatory authority for therapeutic goods charged with

ensuring that the Australian community has access, within a reasonable time, to therapeutic advances

.

This proposal - should it be approved - will achieve exactly the opposite, denying the acknowledged experts in plant medicine the ability to communicate, with the public or each other, about Natural Health Advances.


Table 3 - Comparison of heath professional groups under the Act (Part 5-1)
and the Health Practitioner National Law
Health Professions to whom advertising may be directed exclusively without invoking Part 5-1 of the Therapeutic Goods Act 1989 (Section 42AA)
Corresponding health practice boards registering practitioners under the Health Practitioner Regulation National Law and the NRAS (administered by AHPRA)
Medical practitioners
Medical Board of Australia
Psychologists
Psychology Board of Australia
Pharmacists
Pharmacy Board of Australia
Optometrists
Optometry Board of Australia
Chiropractors
Chiropractic Board of Australia
Physiotherapists
Physiotherapy Board of Australia
Nurses and Midwives
Nursing and Midwifery Board of Australia
Registering Midwives and Nurses in the following Divisions: Registered nurse (Division 1) and Enrolled nurse (Division 2)
Dentists
Dental Board of Australia
Registering Dental Practitioners in the following Divisions: Dentist (including specialists), Dental therapist, Dental hygienist, Dental prosthetist, Oral health therapist
Dental hygienists
Dental therapists
Dental prosthetists
Osteopaths
Osteopathy Board of Australia
Herbalists
Nil
Homeopathic practitioners
Nil
Naturopaths
Nil
Practitioners of traditional Chinese medicine
Chinese Medicine Board of Australia Registering Chinese Medicine Practitioners in the following Divisions: Acupuncturist, Chinese herbal medicine practitioner, Chinese herbal dispenser
Podiatrists
Podiatry Board of Australia
Aboriginal and Torres Strait Islander Health Practice Board
Registering Aboriginal and Torres Strait Health Practitioners
Medical Radiation Practice Board of Australia
Registering Diagnostic radiographers, Nuclear medicine technologists, Radiation therapists
Occupational Therapy Board of Australia
from: Consultation Regulation Impact Statement: Regulating the advertising of therapeutic goods to the general public[13] V4.6 - 30 May 2013 Pages 45, 46
Sign the petition here
The TGA Advisory Committee on Complementary Medicines (ACCM)
Details of this key committee in the decision-making process and their activities as detailed on the TGA website[14] at July 19th, 2013. Minutes of their meetings[15] have not been published since June, 2012 curiously enough.


Role of ACCM
The Advisory Committee on Complementary Medicines (ACCM) was formed in January 2010 to advise and make recommendations to the Therapeutic Goods Administration (TGA) on the inclusion, variation or retention of a complementary medicine in the Australian Register of Therapeutic Goods.
ACCM may also provide advice to the TGA on any other matters concerning complementary medicines, and any other matters referred to it by the TGA (whether or not related to a complementary medicine).
ACCM supersedes the Complementary Medicines Evaluation Committee (CMEC) and has an increased focus on the advisory role within the regulatory framework of complementary medicines.
A major role for ACCM is to provide scientific and policy advice relating to controls on the supply and use of complementary medicines in Australia. The ACCM provides this advice with particular reference to the safety and quality of products and, where appropriate, efficacy relating to the claims made for products.
ACCM members
Chair
Professor Alan Bensoussan is the Director, Centre for Complementary Medicine Research, University of Western Sydney and Executive Director, National Institute of Complementary Medicine Australia. He has been in clinical practice for over 25 years and is an active researcher. Professor Bensoussan has been a lead investigator on many high quality clinical trials of Chinese medicine, resulting in numerous publications in peer-reviewed journals. As such he brings methodological experience in clinical investigation of Chinese medicines, including chemical definitions of products, safety and efficacy assessments, contrasting diagnostic approaches and labelling of illness in traditional medicine. Professor Bensoussan provides expertise in the field of complementary medical practice.
Members
Dr Lesley Braun

is a research fellow in the Department of Surgery at the Monash University. Dr Braun is also a lecturer at the Monash University and at the Royal Melbourne Institute of Technology. She has experience in the fields of nutrition, nutritional medicine, herbal medicine and complementary medicine practice. Dr Braun provides expertise in the field of pharmacology.

Ms Jane Frawley

is a research scholar in the Faculty of Health at the University of Technology Sydney and has experience in the fields of pharmacology, herbal medicine and nutritional medicine. Ms Frawley is also the chair of the Australian Register of Naturopaths and Herbalists Education Standards committee. Ms Frawley provides expertise in the field of complementary medical practice (naturopathy and herbal medicine).

Associate Professor John Edwards

is a toxicologist and occupational hygienist with 30 years experience in the tertiary sector. His research interests span investigations of exposure to environmental chemicals, including pesticides, nanomaterials and illegal drug laboratories. He also examines the toxicity of foods and novel food products. He is Associate Dean for Teaching and Learning at the School of the Environment, Flinders University. Associate Professor Edwards provides expertise in the field of toxicology.

Ms Patricia Greenway

is a strategic planning consultant with extensive knowledge and experience relating to consumers within the health sphere. Ms Greenway is currently a member of Medicines Australia and the Consumer Health Forum of Australia. Ms Greenway provides expertise on consumer issues.

Ms Karen Martin

is a Naturopathic Practitioner and Director at the Well2 in Adelaide. Ms Martin provides experience in the fields of herbal medicine, complementary medicine practice and nutrition, and is a member of the Australian Naturopathic Practitioners Association

(why mention it if it is not recognised? .... Ed)

.

Ms Martin provides expertise in the field of naturopathy

(my emphasis ... Ed).

Associate Professor Marie Pirotta

is a General Practitioner and National Health and Medical Research Council Career Development Fellow in the Department of General practice at the University of Melbourne. Associate Professor Pirotta has experience in the field of complementary medicine research, and is the current Chair of the Royal Australian College of General Practitioners National Standing Committee - Research. Associate Professor Pirotta provides expertise in the field of general medical practice.

Associate Professor Xianqin Qu

is an Associate Professor of Medical and Molecular Biosciences at the University of Technology Sydney and has experience in clinical pharmacology. Associate Professor Qu provides expertise in the field of complementary medical practice (traditional Chinese medicines).

Dr Simon Spedding

is a Medical Practitioner and Adjunct Senior Research Fellow at the University of South Australia, and has over 20 years of clinical practice as an Exercise and Sports Physician. Dr Spedding has experience in the fields of general medicine, sport and exercise medicine, evidence based medicine and nutrition. Dr Spedding provides expertise in the field of epidemiology.

Associate Professor Peter Williams

is a Visiting Principal Fellow at the Smart Foods Centre at the University of Wollongong and Honorary Associate Professor at the School of Exercise and Nutrition Sciences at Deakin University. Associate Professor Williams provides expertise in the fields of nutrition and nutritional medicine.

Dr Hans Wohlmuth

is a Senior Research Fellow, Southern Cross Plant Science and Curator, Medicinal Plant Herbarium at the Southern Cross University. Dr Wohlmuth has experience in the fields of herbal medicine and naturopathy, and established the Medicinal Plant Herbarium at the Southern Cross University. Dr Wohlmuth provides expertise in the field of pharmacognosy.
ACCM meeting dates
ACCM meetings 2013
Meeting date
Venue
1 March 2013
Canberra
14 June 2013
Melbourne (cancelled)

hmmm....... (Ed)

2 August 2013
Melbourne
6 September 2013
Canberra (cancelled)
6 December 2013
Sydney
Contacting ACCM
To contact the ACCM Secretariat:
Email
accm@tga.gov.au
Phone

+61 2 6232 8734

Fax
+61 2 6203 1250
Postal address

Advisory Committee on Complementary Medicines
Therapeutic Goods Administration
PO Box 100 (MDP 122)
Woden ACT 2606
Australia
Content last updated: Thursday, 16 May 2013
Content last reviewed: Thursday, 16 May 2013
Web page last updated: Wednesday, 22 May 2013
URL: http://www.tga.gov.au/about/committees-accm.htm
Sign the petition here
References