MindVision has been a potent and transformational experience for many people - for us it has been a journey which has reached a definitive milestone.

We have integrated all that we have learnt and observed in our years hosting MindVision into CyberSayer® which has, itself, undergone a major transformation from stand-alone software to a conversational web app.

This revolutionary approach to personal growth and personal problem-solving has become a "tool for the times" at this period when many perceive an urgent need to shift our collective consciousness if human life is to remain sustainable on planet Earth.

Collective awareness will change only when enough individuals have assimilated a personal shift and live consciously, making personal lifestyle decisions which support longevity for humanity.

The physical constraints on MindVision had prevented us reaching a wider population and we have increasingly felt the work urgently needs to spread as our contribution to a global shift or transformation.

So we have made CyberSayer an online subscription service to simply reach further and faster than we ever could with MindVision.

And we have also taken to presenting CyberSayer as a "Personal Clairvoyant" in the hopes of reaching a wider audience.

This has also meant that the transformational MindVision experience can be accessed, individually and frequently by people around the world when and as they feel the need.

If you wanted to experience a MindVision we encourage you to try CyberSayer - we believe the experience is equally transformative and has several potent advantages over the 3-day retreat format.

If stress is a factor in your interest in MindVision, our eradicate stress site will explain in some depth how you can use CyberSayer to get rid of it - we feel this is a far superior approach to managing the beast.

The world-first technological advance, developed at Middle Path, which has enabled us to transform a live experiential workshop experience into a conversational web app we call iESP™ a major step forward in man/machine communication technology.

Our work has also evolved a innovative view of human consciousness - perhaps the first ever with a pictorial description of the field of human consciousness or awareness.

The remainder of this page has been left here as a historical record of what MindVision was and the nature of the experience with which infuses CyberSayer.


---
---
personal self-development transformation workshop

A powerful, challenging, life-changing 3-day residential workshop
held in the magnificent hinterland of Queensland's Sunshine Coast
that will empower you with the awareness and tools to change your life

so you can live your life with passion.

---
What was MindVision?
MindVision is a group-based experiential workshop focussing on discovering what it is that you really want in life and what you need to do to achieve it - a key goal in any personal or self-development transformation.

This image from our first workshop in 1988 shows a moment of "I got it" and the genuine delight and joy all participants share whenever one of the group "sees the light".

Most people, when asked "What Do You Want?" repeat what their parent/s, teachers, peers, partner, employer or other authority figures have told them.

Pursuing such goals, if they are not your own, usually depletes passion, enthusiasm, motivation, energy and vitality as well as producing deep-seated feelings of dissatisfaction, discontent, resentment and confusion.

So how do you develop clarity about what YOU Really want yourself? How do you identify the goals which will light you up, fire your furnace and get your juices flowing?
Because once you have that goal in your sights and you understand it is OK for you to pursue it, nothing will stop you and you will be amazed at how much energy, motivation and vitality you have - and continue to have! In brief: Life becomes joyous!
---
Some of the Benefits available at MindVision
Here are just a few conditions and situations which people have successfully transformed through MindVision:


Victim mentaltiy
Lack of Purpose
Poor self image
Parenting issues
Low Self Esteem
Lack of Confidence
Relationship issues
Not engaging in life
Difficulty saying "No"
Feeling Inadequate
Difficulty connecting
Lack of Self Respect
Inability to set boundaries
Personal disempowerment

Anxiety
Shyness
Resentments
Judging others
Loss of Meaning in life

Overcome blocks to:

Trust
Wealth
Success
Receiving
Popularity
Happiness
Public Speaking
and you will also get to spend 3 days at Middle Path in Queensland's Sunshine Coast Hinterland sharing a powerful peak of personal development and life transformation with a group of encouraging and supporting fellow-travellers.
MindVision has helped thousands recognise and accept the validity of their own feelings as a necessary step on the road to living a fulfilling life with purpose and passion. This awareness we believe is the key ingredient in any program of self development or personal transformation.

Your heart knows what you came here for, it understands your purpose in life and it wants you to achieve it. Your mind, however, is likely to be overflowing with images, concepts, ideas and illusions that you have had thrust upon you from a myriad of other sources throughout your life.

The support and acceptance of a guided MindVision group - can and will reveal your passion and thus your purpose. MindVision's loving, nurturing and compassionate environment can and will allow and support you to overcome your patterns of resistance which have prevented you accepting what you really want yourself.
The rest, as they say, will become your history - for it has always been your destiny.
---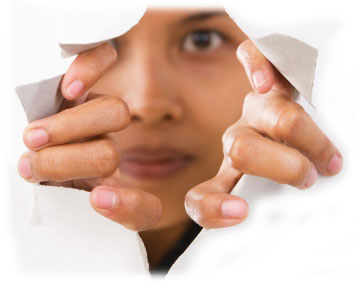 MindVision is uniquely structured to pool the life-skills and knowledge of all participants and to bring this wealth of human experience to bear on each person's individual situation.

This means that you will have a group of up to 20 caring individuals giving their maximum support with the guidance of Fergus and Trijntje to identify and formulate a course of action which will achieve the changes you desire in your life - a personal program specifically tailored to your own desires, development and transformation.

This approach is very different to most personal transformation and self- development groups in that it is not based on a "one solution fits all" philosophy or dogma.

MindVision recognises and respects that we are all unique individuals with unique paths. We will support each other to make our shared journey through unknown territory safely and successfully.





---
MindVision is a "group-based, experiential workshop" focussing on personal transformation and self-development through awareness. We greatly value the power inherent in people gathering together for a common purpose. The purpose we will share is a common desire for permanent, positive and profound change, on a personal level as individuals and on a planetary level as members of the human race. If you agree that "2 heads are better than one" - imagine the power of 12 heads - to make life a better experience for you.

Another unique ingredient offered through the group, unavailable in individual guidance or counselling, is the facility to observe behavioural patterns in another which are similar - often identical - to limiting behaviour in oneself. It is so much easier for we humans to see flaws in another than within ourselves. In MindVision you are able to use these observations to support your own desire for change and awareness.

We host these workshops exclusively at our home on the Sunshine Coast (South East Queensland) which has been built on a site of heightened energy - many refer to these places on the planet as "Sacred Sites" and the energies at Middle Path are wonderfully supportive of manifesting change and growth for all. We have found that the energies at Middle Path stimulate and enhance personal growth, self-development and transformation work on all levels.



How MindVision works
2 ley lines cross in a unique configuration which has created 3 separate points of intensity with different characteristics and we are continually impressed how this input contributes to the results MindVision participants are able to achieve. These are powerfully amplified when a group of people come together to help each other transform, change and develop.


Some of the feedback we received:
---
---
---
---
---
---
---
---
---